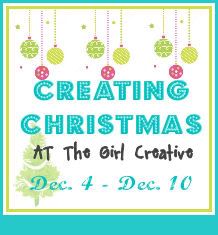 Hi everyone, so are you holiday crafting your little hearts out yet? Stuck for ideas or inspirations?? Well... have no fear the crafters are here!
Mark your calenders for the week of December 4 - 10 Alyssabeths will be participating in the
Girl Creative's
Creating Christmas blog event! I'm so excited, we will have 4 guest crafty bloggers with some wonderful, creative, easy and frugal Christmas Crafts that week and I have a few Dollar Tree crafts up my sleeve for that week!
Here's a hint at the wonderful crafts to come!
As always, Happy Holidays and Happy Crafting